Premium

Hard stylish lines for a bold look available in many sizes and colors shown.

Baltimore

Modern and elegant lines bring a touch of class to your bathroom. Available in many sizes and colors shown.

Nature

Simple, clean and sophisticated for the simpler look with elegance. Available in many sizes and colors shown.
What Are These Shower Pans All About?
Available Colors
Our standard colors are shown above and are ready to ship but we do offer an array of custom colors and custom stamped designs like your favorite sport team or school logo. Any design or picture provided by you can be projected and stamped on any of our pans. Call for details and more information.
Shower Tray Materials
Shower Pan Liners combine stone resins of the highest quality with state-of-the-art mineral fibers to manufacture a shower tray that is light weight and resistant.
Light Weight
Durable
Long Lasting
Shower Tray Finish
The stone resin shower trays manufactured by Shower Pan Liners have a natural slate texture and are finished using a gel-coat which provides an added layer of protection.
Resistant
Anti-Slip Surface
Non-Porous
Anti-Bacterial
All Models Are Made Out Of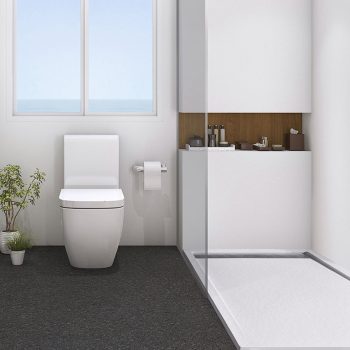 COMPOSITION: Polyester resin, carbonates and the latest fillers.
OUTER CASTING: Highly resistant anti-bacterial gel-coat.
TEXTURE: Class 3 natural slate.
All of our trays are manufactured with the highest quality stone resins and mineral fillers, in turn, our product is more durable and lighter than many other products produced and sold in the marketplace. With a natural slate texture finish, highly resistant gel-coat and level three anti slip factor, our shower pans and trays are more durable, resistant to scratches,stains and reduce the appearance of fungi or mold. Our non-porous surface makes them antibacterial and easy to clean. All of our pans are tested for chemicals resistance and colorings in accordance with une-en-12527. They are also certified with Europe's highest standards certifications or "Ce" which meet all safety and ADA (American Disability Act) requirements.